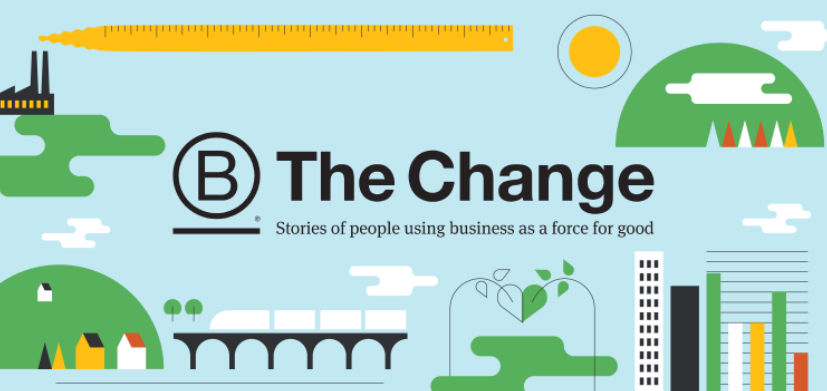 by Robert L. Kerr
16 May 2022
We are proud to share our progress on advancing B Corp values and our vision during 2021. Below are highlights of the work we are doing to realize our vision of a world where the climate is stabilized, nature is restored, and we have achieved a safe and socially equitable world.
Client Impact
In 2021, we helped our clients, representing more than $800 trillion in annual revenue, advance their sustainability programs and make meaningful progress and have a positive environmental and social impact. For example, we helped the National Retail Federation (NRF) to develop a guide to help retailers prioritize their response to climate change. We also helped the Food Industry Association (FMI) to create its Sustainable Packaging Playbook to assist retailers and their suppliers in advancing efficient design, responsible sourcing, and circular systems for packaging. Our team of sustainability experts supported important sustainability work for Ben & Jerry's, MegaFood, Seventh Generation, TAZO, Timberland, Toyota, Walmart, and others. For example, we helped Stonyfield, Ahold Delhaize USA , and others progress on their science-based targets (SBTs) to mitigate greenhouse gas (GHG) emissions.
We were able to share some of this client impact through our Pure Strategies Conversations webinar series, where we discussed best practices in corporate sustainability. Everlane, for example, shared their approach to radical transparency, that openly informs consumers about pricing and materials, and how that drives other changes in the business. We explored how Lush became an early adopter of regenerative agriculture, their methods to source high-quality, sustainable raw materials, and how the company optimizes its value chain.
Industry Leadership
Our team works to extend our reach beyond our client work and share insights publicly in several forums, from our articles to presentations, reports and tools, industry engagement, and policy advocacy. In 2021, we engaged in a range of corporate sustainability challenges such as nature, climate, sustainable sourcing, and sustainable packaging.
In 2021, we launched a free self-assessment tool that is now helping companies to explore and define how to set science-based targets for nature to protect land, water, oceans, and biodiversity. We shared insights on the three key steps that businesses can take to support the restoration of biodiversity in an article featured in GreenBiz and another article that defines an allied approach to sustainable sourcing where risks and benefits of improving environmental and social outcomes are shared across the value chain, which was also noted in the report on how to achieve environmental excellence in the supply chain. We also joined more than 900 companies and signed the Business for Nature's Call to Action, to encourage more policy action in reversing nature loss, protecting biodiversity, and preserving species, and support the needed change at the corporate level as active members of the Science Based Targets Network Corporate Engagement Program.
The Science Based Targets initiative (SBTi) released its net-zero standard in 2021 to provide critical guidance for meaningful greenhouse gas emissions reductions. In addition to outlining what companies need to know about the new net-zero standard from the Science Based Targets initiative, we presented at the inaugural B Corp Global Climate Summit, sharing insights on how to identify and mitigate greenhouse gas hotspots in supply chains. Pure Strategies continued to support transformative climate policy and engaged in the American Sustainable Business Council's Call4ClimateNow campaign to help pass important climate legislation in the U.S. and signed the Business Sign On Letter issued to G20 leaders calling for increased climate ambition. We have also continued our long-standing strategy by offsetting our company's greenhouse gas emissions.
In 2021, Pure Strategies joined as activators for the U.S. Plastics Pact, working toward the vision of a circular economy for plastics by helping companies to eliminate plastics, and ensuring the plastics we use are reusable, recyclable, or compostable. Pure Strategies collaborated with our client MilliporeSigma to deliver a podcast on improving packaging sustainability. There are additional resources on these and other topics available at purestrategies.com.
Community Engagement
As our business and staff grew in 2021, our annual corporate giving and employee matching programs also increased. The cumulative giving by Pure Strategies in 2021 was $24,500, which was the result of matching employee donations up to $100 per employee in which we had 100 percent participation. The top three organizations for our giving in 2021 were Downtown Greens, the Climate Collaborative, and The Food Project. Additional giving went to organizations such as Forest for Monarchs, Wildland Trust, Fast Blackfeet Food Pantry, as well as several food banks and other worthy organizations that provide clothing, find housing for the homeless population, incorporate climate and sustainability awareness into primary education, multistakeholder initiatives for climate and the circular economy, and others.
A newer non-profit partner is Downtown Greens, an organization in Fredericksburg, VA with a mission to foster community involvement and growth by protecting and nurturing urban greenspace through collaborative environmental stewardship and experiential education. This partnership began in 2020 when Pure Strategies helped to develop, fund, and launch this new program to advance a thriving BIPOC regenerative farming community in the region. This is an innovative program that we conceptualized and got off the ground in January 2021. We also contributed to the funds needed to purchase 56-acres of land that contain living wetlands and mature trees, and the last farmland in Fredericksburg with the aim for this land to be a place to teach the community about sustainable and organic growing techniques and provide accessible open space.
Justice, Equity, Diversity, and Inclusion (JEDI)
In November 2021, Pure Strategies announced a new mentor program: "Future Leaders in Corporate Sustainability" to provide an opportunity for students, recent graduates, and early-stage professionals that are interested in a career in corporate sustainability, especially those with identities underrepresented in the field of corporate sustainability, to participate in a four-month long formal mentoring program. This program welcomed its first mentees in the following year, 2022. We look forward to sharing more about them in our next report.
For this mentor program and our internship program, we reach out to historically black colleges and universities and other organizations to connect with underrepresented communities in our field of corporate sustainability to help advance progress in this area. We also increased the representation of women on our team, take a look at our current staff here.
Hope for a Sustainable Tomorrow
In addition to our client work advancing sustainability and our own Pure Strategies-level efforts to live our values and support our communities, we completed our first re-certification through B Corp. Our overall score improved from 87.9 to 91.1. We are excited to continue to see our score increase in the future to recognize the fulfilling work we do with our clients and our team's efforts in industry leadership, community engagement, and JEDI to continue to advance our company's vision.
________
Bob Kerr, Co-Founder and Principal at Pure Strategies.
Yola Carlough, Pure Strategies' Benefits Corporation Board Member, oversees the company's Benefits Report and implementation of B Corp social and environmental values across the company.
Yola joined B Lab in 2011. Her work as Senior Associate in Community Development facilitates entry into the global B Corp community for businesses that aspire to build a more inclusive, resilient, and sustainable economy. She retired from B Lab in 2017 and currently operates a private consulting initiative in the field of sustainability and corporate social responsibility. She serves on the Board of Directors of Vermont Business for Social Responsibility (VBSR). Prior to her work with B Lab, she was Director of Sustainability at Burt's Bees natural personal care products and before that, was Director of Social Mission at Ben & Jerry's.
Bob Kerr is Co-founder and Principal of Pure Strategies, Inc. During the last three decades, he has advised businesses, agencies and non-profit groups on approaches to accelerating environmentally and socially sustainable products, services and programs. Recent work includes support for the multi-stakeholder, safer-chemical initiatives of the Green Chemistry and Commerce Council and for company supply-chain sustainability assessments and initiatives. An expert in chemicals management, Bob authored Sustainable Chemicals Management Software: A Pure Strategies Review of Tools for Managing Chemicals in Products.
Join the Conversation